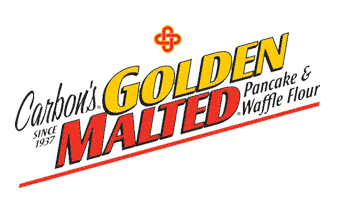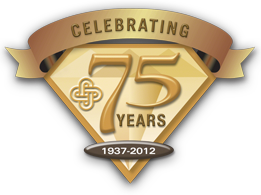 1937
1937
1938
1939-1945
1939
1939
1946
1960
1964
1965
1968
1971
1972
1973
1974
1978
1986
1990
1998
1999
1999
2001
2004
2006
2008
2011
2012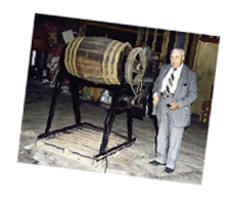 1937
Fred S. Carbon used this barrel to mix his "Golden Malted" flour, then selling it to local restaurants and soda fountains.
1937
Fred S. Carbon founder of F.S. Carbon Company in Buchanan, MI, begins making Golden Malted Pancake Flour and is awarded a patent for the first flour blended with malt, sugar and flavourings.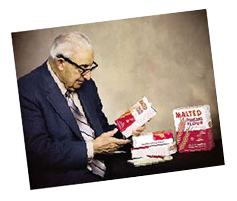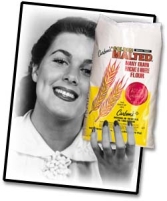 1938
These ladies would make 100 cases of Golden Malted Flour per day. Today the company produces over 2500 cases per day.
1939-1945
During World War II rationing, Carbon's was allotted more sugar to produce syrups and syrup bases. A&W Root Beer had Fred make the syrup used to produce their soda.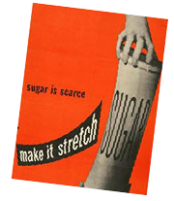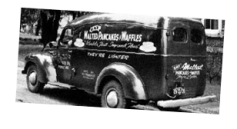 1939
Fred S. Carbon would personally deliver products to customers in this van. The company still provides the same direct store delivery service.
1939
"Golden Malted" registered as trademark.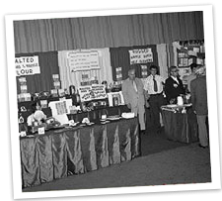 1946
Fred S. Carbon attends the National Restaurant Association (NRA) Show in Chicago, IL. Carbon's is the second oldest exhibitor (Coca-Cola is first) and still exhibits at the trade show today.
1960
Fred S. Carbon is contracted to make "pie shell" flour for Elias Brothers Restaurant's homemade pies – an account the company still proudly serves today.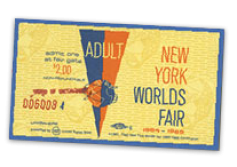 1964
Belgian waffles are introduced at New York Fair by Maurice Vemersch.
1965
Fred S. Carbon begins manufacturing his own round Belgian waffle bakers.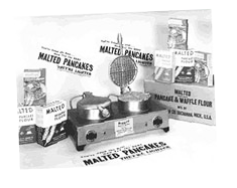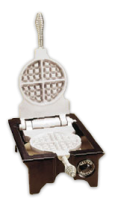 1968
Fred S. Carbon is awarded a U.S. patent on Rugged 1 waffle iron. (US Patent No. 3377942).
1971
Don Carbon decides to loan waffle irons to commercial accounts at no cost providing they use only Carbon's flour. This innovative marketing strategy drove the Belgian waffle market to its popularity today.
1972
Don Carbon takes more prominent role in the business and is instrumental in developing the distribution network - the current lifeline of the company.
1973
While operating a syrup production and flour distribution facility in Florida, Don Carbon was asked by Walt Disney World to make the syrup for their "Real Orange Drink.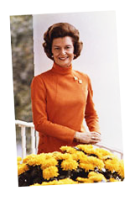 1974
First Lady Elizabeth "Betty" Ford requires that Carbon's Waffles be served in the White House and at events at which she spoke. Carbon's delivered to her directly at her home in Grand Rapids, Michigan.
1978
Carbons's awarded Patent No. D 247764 for the Square Waffle Baker.
1986
Fred S. Carbon dies at 86. Don Carbon becomes company president.
1990
F.S. Carbon Company moves from their Days Avenue office in Buchanan, MI., To East Dewery Street.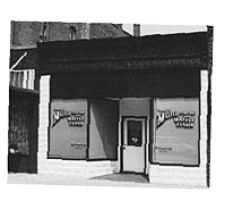 1998
Don Carbon retires and sells the business to five of Carbon's largest distributors: Scott Carbon, (Fred's Grandson), Tim Quick, Richard G. Emslie Jr., David Jenkins and Steve Davenport.
1999
New Carbon develops and patents RT (Retro) equipment technology featuring an "autostart" digital countdown timer with LED display and featuring a lightweight stainless steel frame for easy cleaning and mobility.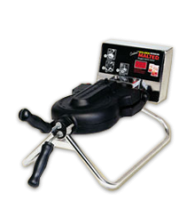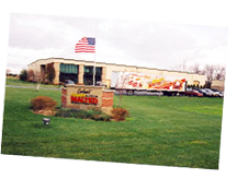 1999
New Carbon Company moves to a new facility in South Bend, Ind.
2001
New Carbon develops its "self-service" waffle concept for use in limited-service hotels offering free continental breakfast. Today there are over 7,000 limited-service locations across the country.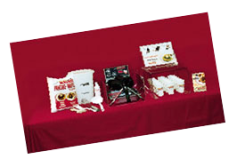 2004
Carbon's waffle mix and bakers are featured on Emeril Live, The NBC Today Show and NBC's "Late Night" with Conan O'Brien.
2006
The Better Batter Dispenser (BBD) was launched.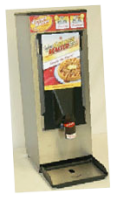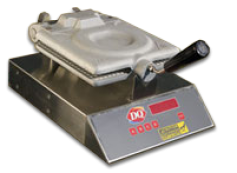 2008
Carbon's innovative Products Division produces a Panini machine known as "The Iron Grill" for restaurant chain Dairy Queen.
2011
The Dual Better Batter Dispenser (Dual BBD) was launched.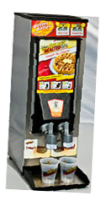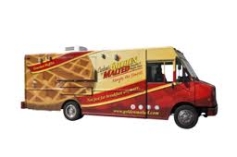 2012
New Carbon Co. Introduces a specially designed food truck to take waffles on the road. Christened "Carbon's Kitchen", the mobile kitchen will travel to fairs, festivals, fundraisers, open houses, tailgate parties and more around the country.